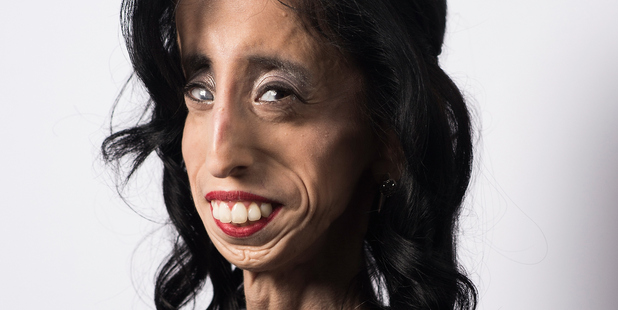 Activist Lizzie Velasquez poses for a portrait for A Brave Heart:
The Lizzie Velasquez Story. Photo / Getty Images Portraits
Lizzie Velasquez went through the torment of being mocked by bullies from around the world and survived to tell her story
At the age of 17, while surfing the web, she came across a video of herself on YouTube that labelled her as the 'world's ugliest woman'. it was a devastating experience for her.
But now 26, the inspirational woman has hit back at her tormentors with an anti-bullying documentary about her life, describing her battle with a rare condition which stops her from putting on weight.
'A Brave Heart: The Lizzie Velasquez Story' premiers at the South by Southwest Film Festival in Austin, Texas, today.
The 78-minute film charts Lizzie's inspiring path from cyber-bullying victim to anti-bullying activist.
Featuring details of Lizzie's emotional and physical journey through the years, it follows her progress as she attempts to lobby the US government for the first federal anti-bullying Bill.
She was born with Marfan syndrome and lipodystrophy, which is a problem with the way fat is distributed in the body.
At only 5ft 2ins tall, Lizzie only weighs 58lbs - just over four stone.
"All we had known all my life was that I had a syndrome which meant that I couldn't
GAIN WEIGHT
.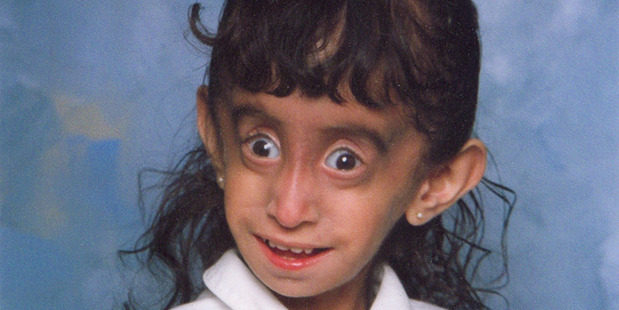 Lizzie Velasquez, aged 3. Lizzie, now 26, has a rare and
undiagnosed syndrome that prevents her from putting on weight. Photo / Barcroft Media
"At the time, I thought everyone looked like me. I didn't recognise or tell that they didn't look like me."
First bullied as a child in school for looking different, she was horrified to stumble across a YouTube video labeling her 'The World's Ugliest Woman' as a teenager.
She fought back by giving a TED Talk in 2013 which she says "changed everything".
"This is my purpose. This is what I'm meant to do for the rest of my life.
"I like to think that I'm not only telling my story, I'm telling everyone's story."
Now, Lizzie's own YouTube channel, which boasts more than 300,000 subscribers.
Speaking in a video posted to her channel ahead of her documentary's showing today, she said: 'I'm so excited, I can't even tell you.
"I finally was able to sleep and I'm feeling rested and ready to go."