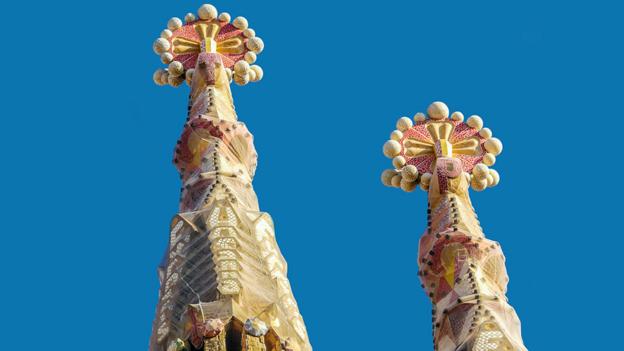 When the final stone is set in place, the Sagrada Família will be the world's tallest church, soaring 560-ft (170-m) above the Catalan capital. It will also be the strangest looking and possibly the most controversial place of worship ever built on such an epic scale.
Looking for all the world like a cluster of gigantic stone termites' nest, a colossal vegetable patch, a gingerbread house baked by the wickedest witch of all or perhaps a petrified forest, this hugely ambitious church has confounded architects, critics and historians ever since its unprecedented shape became apparent soon after World War I.
"My client is in no hurry". Antoni Gaudí believed that God had all the time in the world, so there was no need to rush the completion of the Catalan architect's most ambitious work, the Sagrada Família. Often mistaken for Barcelona's cathedral, the breathtaking Basilica and Expiatory Temple of the Holy Family, paid for entirely by private donations and sales of tickets to the 2.5 million people who visit it each year, is unlikely to be finished before 2026. Given that construction began in 1882, this is clearly the work not just of a singular and devoutly religious architect, but of several determined generations of dedicated professionals and enthusiasts.
George Orwell said it was "one of the most hideous buildings in the world" and rather hoped it would be destroyed during the Spanish Civil War. Salvador Dalí spoke of its "terrifying and edible beauty", saying it should be kept under a glass dome. Walter Gropius, master of right-angled architecture and founder of the Bauhaus, praised its technical perfection. Louis Sullivan, the great American architect, and "father of skyscrapers", described it as "spirit symbolised in stone."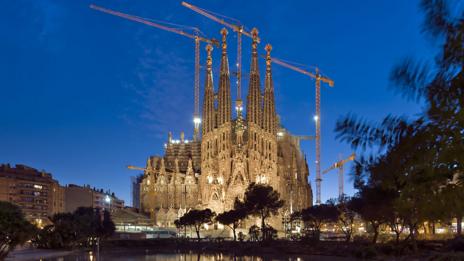 Gaudi developed a radical architecture that was before its time (Getty)
When the mind-numbingly complex stone vault over the 150-ft (45.7-m) high nave was completed in 2010 and the basilica consecrated by Pope Benedict XVI, the debate reignited. According to Manuel Vicent, a columnist for the Madrid daily El Pais, "The only saving grace of the Temple of the Sagrada Família was the fact that it was unfinished, the dream of a genius driven crazy by mystic reveries. Now it will completed with the money of tourism, and when its walls are finally enclosed, there will be no one inside but Japanese tourists."
When complete, the basilica will boast no fewer than eighteen spires – eight have been built so far 12 representing Christ's apostles, four the evangelists (Matthew, Mark, Luke and John), one the Blessed Virgin Mary and the tallest, Christ the Saviour.
BBC CULTURE